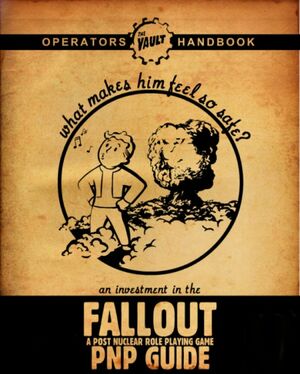 The PnP Vault is a wiki dedicated to creating a pen and paper role-playing game based on the Fallout setting. Yes, you can edit too. So what are you doing staring at the main page? Go ahead and start writing. We currently have 196 articles.
Note: In this wiki, we're working (among other things) on version 3.0 of Jason Mical's Fallout PnP. The last complete version of the rules, Fallout PnP 2.0, can be downloaded here.
If you want to experiment with editing a wiki, please do it in the Wasteland, not in articles.
For general information about Fallout games, see Nukapedia.